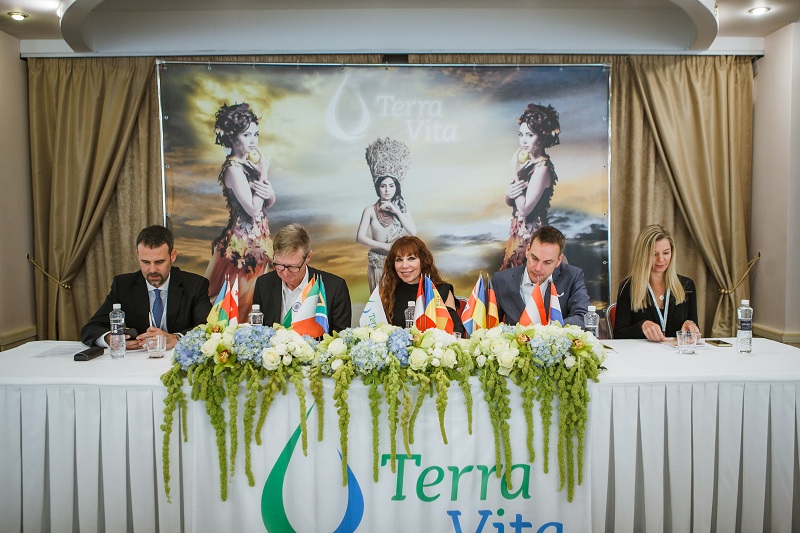 "TerraVita": 17 years of progress
30.11.2018
For the past 17 years "TerraVita" is still holding one of the leadership positions in Ukrainian agricultural market. During these 17 years the company steadily grows and contributes positively to the progress of agro-industrial sector of Ukrainian economy due to the right choice of development strategy, clear understanding of end-users' needs, creation of well-balanced portfolio which contains a wide range of high-quality products (plant protection products, fertilizers and seeds), impeccable service and trustworthy cooperation with manufacturers and distributors based on the principles of transparency and mutual respect.
The company's policy and performance are aimed at preserving unique Ukrainian soils for the benefit of present and future generations as well as providing agricultural producers with products which make the land fertile and farmers satisfied with a bumper harvest and sustainable profits.
Annual international conference which "TerraVita" traditionally organized at the end of November in Kyiv is a proof of company performance stability. The motto of the conference was "In the rhythm of growth we prosper. Our goal is a bumper harvest. We offer only the best!". The conference always turns out to be a great family holiday so as all the "TerraVita" employees and business partners are a great friendly family who has its traditions and customs.
"Nowadays, agriculture requires further development. First of all, we need it to provide growing population of our planet with provision without harming the environment," said Karina Markarova, director general of "TerraVita", when starting the conference. – Sustainable agriculture is of paramount importance in the process of providing our planet's population with a sufficient amount of provision. By the way, achieving this aim is possible in Ukraine as well. We are sure that we will be able to solve major local and global problems owing to innovations and fruitful cooperation. That's why we aim to succeed and offer only the best products in order to help Ukrainian farmers. I believe that our conference is a good opportunity for experts from different regions of the country not only to exchange and implement new practices, but also to get acquainted with up-to-date plants research as well as take over foreign companies experience. Hopefully, this event will become a significant contribution to Ukrainian agriculture development."
There were a lot of things to be triumphal about. In these 17 challenging years "TerraVita" has not only created a powerful portfolio full of innovative products (complex microfluids and growth stimulators) with new formulas, unique composition and iconoclastic mechanisms of action, but also expanded its distribution network within Ukraine. In addition, nowadays "TerraVita" works successfully with agricultural producers of Moldova, Belarus and Georgia. The current scope of TerraVita's activities comprises development, registration, production, marketing, distribution and logistics of the products offered. The company actively registers new products with advanced preparative forms and controls their production process to the full extent. At the moment, portfolio of our products, registered in Ukraine and CIS countries, contains 120 products. In particular, there are 65 products registered in Ukraine: 18 fungicides, 25 herbicides, 7 insecticides, 3 growth regulators, 6 seed disinfectants, 3 microfertilizers and 1 rodenticide. There are 36 TerraVita's products registered in Moldova: 14 fungicides, 14 herbicides, 6 insecticides, 1 growth regulator and 1 seed disinfectant; 15 registrations in Caucasian countries, 2 herbicide, 1 fungicide and 1 growth regulator registrations in Belarus.
"TerraVita" succeeds because when protecting plants it combines scientific basis with knowledge of local soils' peculiarities, climatic conditions and specifics of cultivated plants, in order to help farmers of each region to level up their agricultural practices. Nowadays, agrarian community tends to choose our products," said Ms. Karina. – Farmers used to favor products of well-known multinational companies, but now they are searching effective, working and affordable solutions to their problems. So as producers of agricultural products always count target costs in advance, they choose the most suitable product for existing conditions. Moreover, aftermarket support and effective protection system choice is becoming more and more popular, so as nowadays an agriculture can't be effectively protected in all aspects with a help of only one product or device. This means that agrarians not only want to buy a product of high-quality, but also aim to get complex support and effective solution to their problem.
"TerraVita" company helps these agrarians by bringing to the market new effective products every year. Maxim Markarov, who is a commercial director of the company, presented several brand-new products which will be available to Ukrainian agrarians since 2019. One of these novelties is Allatan 105 OD – a herbicide with an improved formulation (mesotrione + nicosulfuron) which does not require surfactants to be added to it. It's goal is corn protection from a complex of annual and perennial, gramineous and bilobated drawks. It also provides an effective control over common milkweed and can be applied within a wide window of usage (2-8 leaves per culture). Another example is a systemic insecticide Vamp 200 VP (an acetomiprid). It protects crops from sucking insects colonies, including those with latency stages of development (minerals, thrips, etc.). Due to the combination of its consistent and translaminar action, it is well-dispersed by the plant and influences both processed and unprocessed plant parts. Moreover, it does not exhibit resistance and has low application requirements. New fungicides were also added to the product portfolio of the company. One of the examples is Stayer 500 EC (propiconazole + tebuconazole). It is a product of preventive as well as systematic and curative action with an extended period of protective effect (up to 4-5 weeks) against mildew, corrosion and leaf blotch. In such a way it protects crops, soybeans, turnip, sugar beet and fruit crops. Other examples are Torrinto 500 EC (prohloraz + tebukonazol) and Fabus 497 SC (epoxiconazole + thiophanate-methyl). These are complex fungicides with preventive, curative and protective action directed at spiked cereals (as well as sugar beet) against the diseases of fungal origin. In order to protect seeds and sprouts of spiked cereals from complex illnesses, "TerraVita" company offers a new three-component protectant Spider (flutryafol + imazalil + tiabendazol) which has a prompt healing and a prolonged (60 days) preventive action. A registration of famous fungicide Taffin (azoxystrobin + cyproconazole) for sunflower has also been prolonged.
The conference of the company has an international status so as there were not only guests and participants from Ukraine, but from Moldova, Belarus, Georgia, Germany, India, Spain and the Republic of South Africa as well. Just as usual foreign guests and business partners of "TerraVita" company have made interesting reports.
Karsten Fischer from the German company "Stefes" which produces plant protection products, microfertilizers and biostimulators for "TerraVita" said that a significant event had taken place in 2018: "Stefes GmbH" and "Fader Alliance Ltd" (a company which produces exclusively for "TerraVita" most of its chemical weed and pest killers products) have combined forces and purchased the plant which is called SFM and produces primary materials and finished formulations in Germany. This means that "TerraVita" product portfolio will be soon replenished with new products and interesting iconoclastic technological solutions.
George Neumann – a representative of "Gharda Chemicals", India's largest manufacturer of plant protection products – mentioned that his company is taking second place in the world market for drug product manufacturing on the basis of chlorpyriphos and dicamba, and third place for the manufacturing of cypermethrin based products. The production of the abovementioned products does not depend on the import of technical raw materials from China, so agrarians should not be worried about the presence of the pesticides on the market: "Gharda Chemicals" company is going to produce them in sufficient quantities, and "TerraVita" will uninterruptedly deliver these products to end-users. "Gharda Chemicals" owes the popularity of its company's products in Ukraine to "TerraVita".
Francesc Prats (a spokeswoman for SAS company) introduced "KODA" brand fertilizers and plant growth boosters for seed treatment and non-root crop fertilization. It should be also mentioned that the range and composition of these products is expanding every year and nowadays there exist about 250 products which can be applied on 250 crops. They are all available to Ukrainian farmers thanks to "TerraVita", who exclusively represents them on our market.
A special place in "TerraVita" portfolio is taken by growth bioregulator Kelpak, which was being produced for more than 35 years by South African company "Kelp Products". It's significance lies in its manufacturing out of natural raw materials (algae) with a help of unique technology which allows you to keep the maximum amount of growth hormones in the finished product. Due to the unique composition of the latter, this biopreparatum contributes to more powerful root system and aboveground part of plants development. A representative of the company Jeanine Dams has informed everyone about the action mechanism and new tests results of Kelpak which demonstrated a significant increase in crop harvesting capacity.
"We do not aim at only increasing our own sales volume, we aspire to provide our clients with a full range of services. An individual approach, finding an effective solution for a particular farmland taking into account its specific conditions – this is the future of our cooperation, – said Karina Markarova, summing up the conference. – There exist no solution which will be equally suitable for everyone. Therefore, the future is in the development and implementation of ready-made protection systems solutions, not in the sales volume of separate product. Having both a complex portfolio of high-quality products which is constantly expanding and an experienced team of knowledgeable professionals, I am convinced that the company meets high European standards and will soon achieve a similar level of its customers development, so as unity makes strength."
The conference ended just as family holidays always end – with gifts. Karina Markarova solemnly rewarded the best distributors of "Terra Vita" company with memorable honors for the effective cooperation and comforted the rest of the guests with a pleasant rest backed up by music and entertainment activities.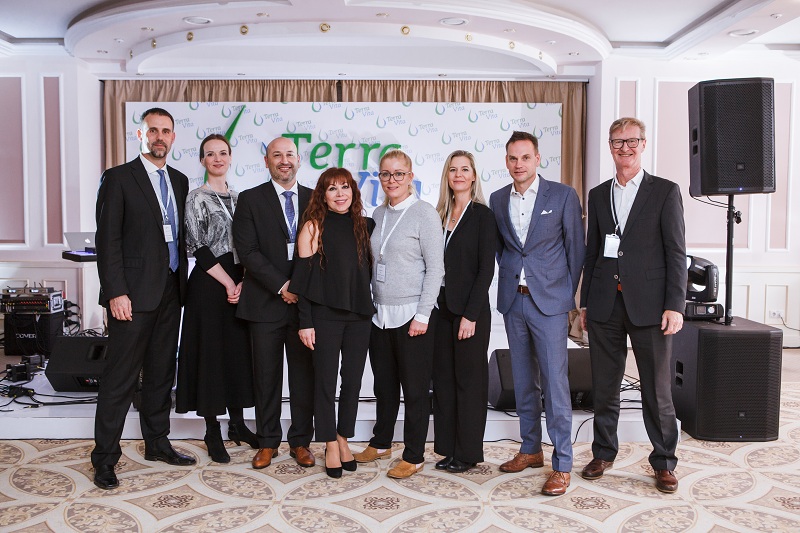 Carles Zanyu (SAS), Suzanne Drobe (Stefes), Francesc Prats (SAS), Karina Markarova, Ineken Reck (Stefes), Zhanin Dams (Kelp Products), Carsten Fischer (Stefes) and George Neumann (Gharda Chemicals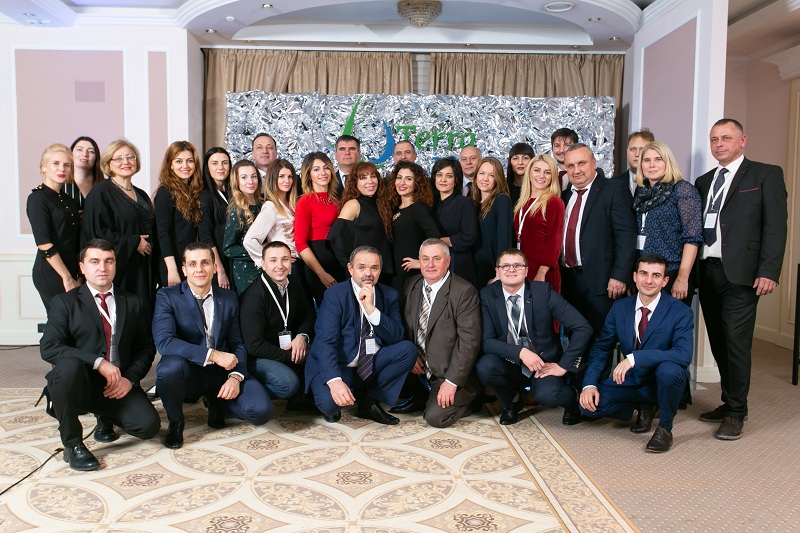 "TerraVita" company – a team of professionals