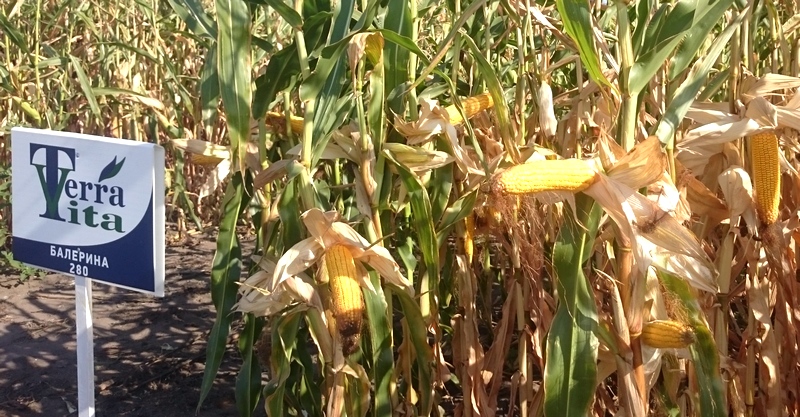 Field day in FE "Romashka"
03.09.2015
On August 28, 2015 "TerraVita Ukraine" LLC together with "Agrozahist Donbass" LLC held the Field day on the basis of FE "Romashka" in Domantovo village, Zolotonosha district, Cherkasy region.
After the welcome speech of Director of FE "Romashka" F.Preis, participants came to observe the demo-fields with sowings of hybrid corn Ballerina FAO 280 of the company "TerraVita Ukraine" and sunflower sowings, on which the herbicide protection system from the company "TerraVita Ukraine" has been applied, namely, herbicides Pandora 500 SC (S-metolachlor, 312.5 g/l + terbuthylazine, 187.5 g/l) and Tsefey 642, WG (rimsulfuron 32.5 g/kg + dicamba, 609 g/kg), together with SAM Maxium (esodecyl alcohol ethoxylate, 900 g/l).
Head of Sales Department of "TerraVita Ukraine" LLC S. Lyamets, after greeting the participants, briefly told, that the company "TerraVita Ukraine" is one of the leading suppliers of plant protection products, seeds and microfertilizers from the leading world and European manufacturers.
Commenting the sowings of sunflower with application of the herbicide Pandora 500 SC, S.Lyamets noted that the application was carried out by spraying of the soil at the dose rate 4 l/ha before the emergence of the crop. The herbicide showed convincing results against annual grasses and annual dicotyledonous weeds, what was confirmed by the regional representative of "Agrozahist Donbass" LLC V.Polishchuk.
S. Lyamets said that on maize Ballerina FAO 280 the herbicide Tsefey 642, WG with SAM Maxium was applied. The spraying of maize against annual and perennial grasses and dicotyledonous weeds was carried out in the phase of 5-6 leaves of the crop, with dose rates of Tsefey 642, WG – 385 g/ha and SAM Maxium – 200 ml/ha. The reliable control against a broad spectrum of weeds, especially against drops of sunflower was proved the director of FE "Romashka" F.Preis.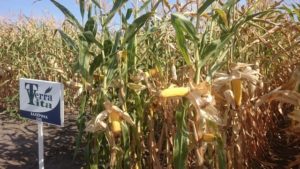 Sowings of the hybrid Ballerina FAO 280
Seeds Sales Manager of "TerraVita Ukraine" V.Vasilyev told the participants in details about the Austrian selection hybrid of maize Ballerina FAO 280. Examining the sowings, the participants made sure in the best quality of the hybrid in comparison with others, in its viability, what is confirmed by almost 100% of pollination of the cubs even in drought conditions. V.Vasiliev also noted that the company "TerraVita Ukraine" is currently carrying out the special offer, by which the farmers have an opportunity to get 100 bags of Ballerina FAO 280 for free, upon condition of purchasing of the protection system of corn (detailed conditions of the offer you can find on our website in the News section).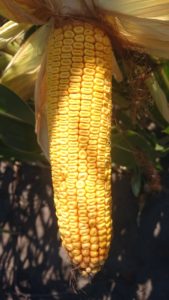 Ballerina FAO 280, almost 100% pollination of the cubs
After finishing the exhibition of the Demo-field the participants had friendly conversations and exchanging of opinions during the tasty dinner.